#trending: Hi-Chew green apple candy selling for S$500 on Carousell following news of discontinuation
SINGAPORE — Some people in Singapore have started reselling Hi-Chew's green apple candy for exorbitant prices following an announcement by Japanese candy maker, Morinaga, that it was retiring its green apple flavour.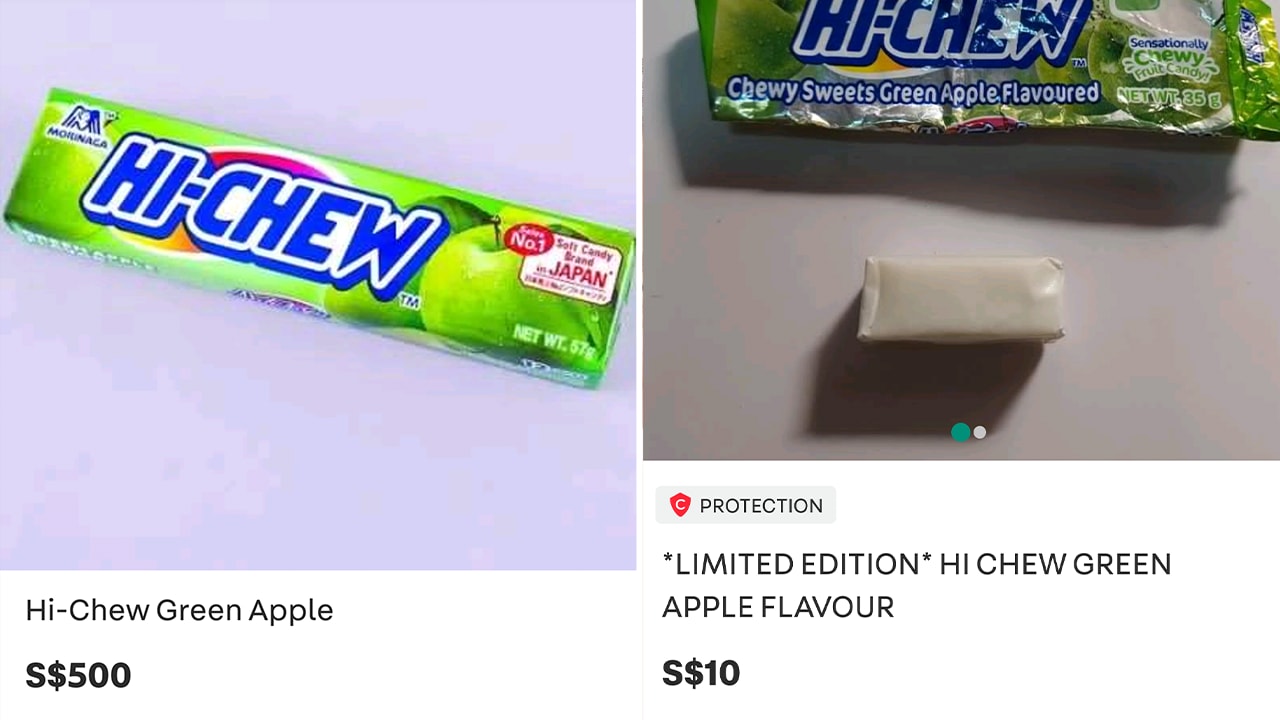 SINGAPORE — Some people in Singapore have started reselling Hi-Chew's green apple candy for exorbitant prices following an announcement by Japanese candy maker Morinaga that it was retiring its green apple flavour, much to the disappointment of loyal customers and fans.
A pack of 12 Hi-Chew fruit-flavoured sweets costs only S$1.05 at supermarkets here, but a few sellers are now listing the "limited edition" green apple flavour on e-marketplace Carousell from S$10 for a single remaining piece to as high as S$500 for an unopened pack of 12.
In one of the listings, Carousell user "jxyrenn" claims to be selling a "secret stash" of Hi-Chew green apple at "only S$120.50 a piece". Another posting by "ok1.sg" offers the coveted candy at a more down-to-earth price of S$1.90 and claims that part of the proceeds will be channelled to supporting a "daily care table" of food and other essentials for the needy.
No transactions seem to have been made at the time of writing.
HI-CHEW GREEN APPLE STILL AVAILABLE IN SINGAPORE
In response to the commotion amongst customers, DKSH Singapore, which distributes Morinaga products in Singapore, has clarified that the discontinuation only pertains to Hi-Chew Green Apple 57g from Japan, which contains 12 pieces.
The production and stocks for Singapore's Hi-Chew Green Apple 35g, which contains seven pieces, will not be affected.
"We hereby confirm that Hi-Chew Green Apple 7pcs stick will continue to be sold in Singapore. We hope you keep enjoying our sensationally chewy fruit candy," said managing director and CEO of Morinaga Asia Pacific Tatsuya Takamiya.
Morinaga, the company behind the popular Japanese candy, revealed on Tuesday (Aug 2) that production for its 12-piece Hi-Chew Green Apple pack in Japan will be discontinued by the end of the month, saying that this was due to diminished demand. The iconic flavour was first introduced in 1982.
The company made the announcement through a series of humorous farewell videos on its YouTube channel. In one of three half-minute clips, a personified Green Apple breaks the news of his retirement to another original Hi-Chew flavour, Strawberry. The conversation goes:
Green Apple: "Strawberry, the truth is, I've gone out of production."
Strawberry: "What? Really?"
Green Apple: "Yeah. Thank you, for everything you ever did for me."
Strawberry: "What are you saying? It's not like you to come right out and say it like that. I'll miss you so much."
Green Apple: "Strawberry…"
Strawberry: "I'm sorry, I can't…"
Green Apple: "Strawberry!"
The seemingly crestfallen Strawberry then breaks into a monologue expressing glee that only her counterpart is getting the axe and not her.
Strawberry: "Ahh, it's just Green Apple that's getting retired. Good. Hahaha!"
Green Apple: "Umm… I can hear you."
Mistaking that the discontinuation would affect the availability of green apple flavour in other markets too, the revelation did not sit well with loyal fans of the chewy candy from across the world.
An Instagram reel by Asian American news outlet NextShark received more than 660 comments in less than 12 hours, with many bemoaning the loss of their favourite Hi-Chew flavour.
One person wrote: "Nooo, why would they retire one of the best flavours?" Others agreed that it was indeed "the superior flavour".
Some people talked about how green apple was the popular flavour during their growing-up years: "What, nooooo, this is my go-to since I was a kid". Another commented: "This was literally the best flavour growing up. It will be missed."
Others urged Morinaga to get rid of supposedly less popular options such as grape or banana instead, while some simply dismissed the announcement as a clever marketing ploy.
A few people even rallied others to start stocking up on the candy as the discontinuation would render the flavour a "collector's item".
Stay in the know. Anytime. Anywhere.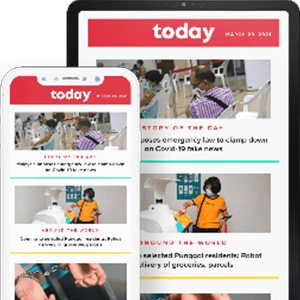 Subscribe to get daily news updates, insights and must reads delivered straight to your inbox.
By clicking subscribe, I agree for my personal data to be used to send me TODAY newsletters, promotional offers and for research and analysis.